Molecular Creativity meets Mexico-Italian Gastronomy at Quattro Ristorante
The concept of using avant-garde culinary techniques to transform ordinary cuisine into extraordinary flavors and presentations is not new. However, what you'll experience at Quattro is completely different. A relative new comer in the molecular gastronomy scene in Dubai, this Mexico-Italian Ristorante is setting new standards with its refreshing take on this modern art of cooking.
Molecular gastronomy is part science and part art and Quattro seems to have mastered this, only too well. Within a space that's both elegant and earthy, adorned with a giant tree in the center and lots of potted plants in the corners, colourful décor of yellow and blue adding that speckle of tonality to the simple wooden tables and whitewashed walls - a marriage of molecular creativity and gastronomy transpires.
Quattro manages to create a perfect amalgamation of two world famous cuisines and molecular creativity culminating in gastronomical experience of sorts. Considering it is a 100 percent pure vegetarian restaurant in a country that is majorly carnivorous, this ristorante deserves kudos.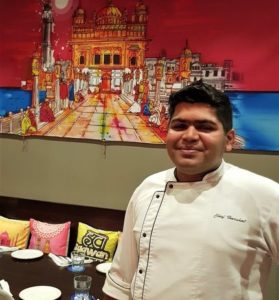 Dubai foodies who throng the venue for a new dining experience are treated to the culinary wizardry of Chef Harshal Tanawade who is a master at creating impressions. Chef Harshal doesn't want you to just eat his food, he wants you to feel it.
Using creativity, tact, and technique, he elevates the taste of his fare to remarkably high levels. You'll not be surprised why Quattro is one of the most popular progressive cuisine restaurants on this side of town.
Our Visit
We were there on December 10th 2017, exactly a year after ristorante extraordinaire opened its doors in the neighbourhood of Mankool. Despite strong contenders bang opposite, Quattro has managed to create a niche in the locality and a
loyal following of ardent foodies
who swear by its name. After our visit, we now consider ourselves to be on that list too!
The Drinks
We started off with Apple Basil Cooler and Passion Fruit Lemon Grass.
Apple Basil Cooler:
Green and refreshing with a stream of smoke and chilled to the perfect level, the apple basil cooler revitalized the senses. This is one drink that I can have over and over again, every single day after a tired day at work.
Passion Fruit Lemon grass
:
This drink was absolutely divine and out of the world. Passion fruit being my favorite among all fruits, I gulped this unbeatable concoction hands down. Relatively thick, this Margarita could well be scooped up like ice cream when it is served, or if you fancy - thawed down and sipped up in a whiff. Both ways, it tastes truly fascinating. With citrusy lemon grass and dizzying amounts of sugar, it clearly turned out to be a winner for me.
Salad
Instalate Castano
For Salad we were served with
Insalate Castano
– a Mexican salad made of water chestnuts, jalapeños, shallots, beans, radish and cherry tomatoes dressed in spicy Mexican sauce. It burst with flavor and was as spicy as an Indian or Mexican would appreciate.
Starters
For starters we had Taquito, Corn Cakes Avacado Salsa and Bruchetta to top it all.
Taquito:
Tortilla lovers will rejoice with this fusion dish as it packs flavorful tomato salsa, jalapenos and beans in small sized gluten-free crispy tortilla cones, with the best part being the avocado ice cream in the center.
Corn Cakes Avocado Salsa
The fresh corn cakes layered with spicy guacamole in the center and sour cream foam on top made for an incredibly mouth-watering dish. It was bursting with contrasting flavors and was a delight in every single bite.
Risotto Palle
Fried Risotto balls stuffed with Quattro's signature cream and loads of cheese - this dish is a must have. Savour it as fiery as you fancy, thanks to the spicy-oil pipettes thoughtfully pierced into these balls. This dish was crunchy, cheesy and lip-smacking.
Bruchetta
Centered with thick buffalo mozzarella and cherry tomatoes and topped with parsley foam and balsamic pearls over crispy toasted baguette, this scrupmtious Italian appetizer sealed the deal for us.
Main course
For the main course we wanted to taste the best of both worlds (Read Mexican and Italian), so we went for
Quesadillas
and
Lasagne Siciliano
Quesadillas
The
Quesadillas
were wrapped in flour tortillas and packed with Quattro's rich home-made cheese blend. It was served with Grilled Vegetables, Mexican Beans, Guacamole, Mexican Rice and Sour Cream.
Lasagne Siciliano
A very luscious and filling dish with layers of oven-baked pasta, béchamel, pomodora, veggies, basil and generous portions of cheese.
We were already surfeit with all this indulgence but the loving Quattro team wouldn't let us go, without trying their unbeatable desserts.
The Desserts
We were offered Tres Leches and Hazelnut Mousse
Tres Leches
- This ever-delectable creamy and luscious Mexican cake which gets its name from the "three milks" was presented in its deconstructed form. This dessert was a killer.
Hazelnut Mousse -
Pop corn and candied hazelnut served with rich and tasty Belgian chocolate ice cream. Very unique in taste and form, but we just couldn't complete it, as by then, we were already feeling drunk - drunk with food.
My Verdict
Quattro is one of the finest progressive Mexican-Italian restaurant in Bur Dubai serving up a wide array of innovative dishes. The ambiance is simple, relaxed with the focus being more on the food than the place where it is served. Therefore no unnecessary distractions in the name of artsy props or decor. The tree on the centre and the potted plants are a big relief, though. The service is prompt, friendly and their team are an amazing bunch – this includes the outlet managers Vernon and Wantson. The food presentation is aesthetic and here again the Chef demonstrates his creativity, making every dish instagram-worthy. The price is very much reasonable with none of the dishes on the menu costing more than AED 60. You most definitely cannot find a better place in Dubai to try molecular gastronomy at such a down to earth price.


I recommend this restaurant as one place that you MUST visit. You'll not be disappointed and its worth every cent of the money you spend.
I spoke to Wantson Pulle one of the outlet managers at Quattro. Here's what he had to say
IF YOU'RE GOING
INFORMATION
Where:
Opposite Aster Hospital, Near Sharaf DG, Kuwait Street, Mankhool, Dubai
Hours:
12 Noon to 3:30 PM, and 6:30 PM to 11:30 PM All Week
Atmosphere:
Well lit, simple setting.Tree in the center & potted plants can be spotted
Parking:
Prices:
AED 150 for two people (approx.)
Credit cards:
Cash & All major credit cards accepted
Sound level:
Quiet
Wheelchair access:
Accesible
Service:
Excellent
Recommended:
Everything!
Reservations:
04 2753179
Website:
https://QuattroDubai
Facebook :
https://www.facebook.com/QuattroDubai/