'Tis festive season at Soho Bar & Grill
Just next door to Irish Village in Garhoud is the Century Village and here you can find a couple of good restaurants and Soho Bar & Grill is the one of the best among them. We were impressed beyond words with the food, service, ambiance and the over-all experience that we decided to go there again for our Christmas brunch.
The Drinks
We were welcomed with a glass of mulled wine and live music in the background. With the winter winds swirling in, nothing could have been more apt than mulled wine for a welcome drink. It literally set light to the evening. An absolutely delight to savor, it was sweet just to the appropriate level and carried a strong, yet very pleasant aroma of cinnamon.
The Food
For starters we ordered a sharing platter which included TNT Shrimps, Soho wings, Fried mac and cheese, corn on cob and their signature dips. We also tried their Quinoa salad which was garden fresh and scrumptious.
The Soho wings looked tempting and being my all-time favorite dish, that's the first thing I dug my fork into. It tasted as amazing as it looked. The TNT shrimps were succulent and luscious. It came layered in a very delicate coating of sticky Korean sauce.
Fried mac and cheese preserved all the 'cheesy' goodness inside while having the perfect crunchiness outside. It was absolute delight in every bite.Finally chargrilled corn on cob was super soft and tasty. It was layered with generous amounts of Mexican feta sauce, chilli, lime and coriander. Nothing could have been a better appetizer than this sharing platter!
For the main course we had a platter of hormone-free turkey, served with roast potatoes and assorted winter vegetables. From the very first bite, we could tell that the meat was fresh and of very good quality.
We also ordered a Soho delux vegetarian pizza. The veggies were garden fresh and the pizza extremely tasty. It could easily rival and defeat some of the biggest names in the pizza business.
Finally it was desert time. We washed it all down with some ice cream, chocolate brownie and scrumptious cheesecake.
The Ambiance
The ambiance was extremely soothing with running water, lots of foliage, subtle lighting and great indoor and outdoor alfresco seating.
The elusive lighting and ambiance relaxed us and served as a perfect start to our weekend. Add to that the lovely music from Soho's talented singer added a shimmer to our evening.
The place is ideal for an intimate dinner with friends or family. What's more, Soho also sports pool tables, foosball and a host of other games to keep you entertained.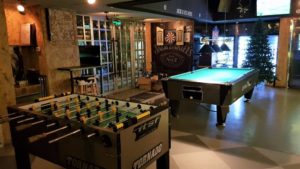 The Service
The service was impeccable and impressive. Their staff were very attentive to our orders and food preferences and had clear idea about the food they were serving. The outlet manager checked on us often to make sure everything was as per our liking.
The Verdict
Overall Soho Bar & Grill is a wonderful place to enjoy great food and service in a super relaxing ambiance. Do check them out as they have a lot of seasonal festive offerings running currently. There can't be a better place than Soho Bar & Grill, to enjoy a Christmas brunch with the family.
Ratings
Food:
5/5
Value:
4/5
Ambiance:
5/5
Décor:
4/5
Service:
5/5
Overall Rating:
9
IF YOU'RE GOING…
Where:
Century Village, Al Garhoud, Dubai
Hours:
12 noon to 1:00 a.m. Saturday to Wednesday, Thur & Fri 12 noon to 2.00 a.m.
Atmosphere:
Beautiful outdoor with green foliage, fountain and great ambiance. Foosball and pool table inside. Great music, Dim and subtle lighting.
Parking:
Valet Parking Available
Prices:
AED 300 for two people (approx.)
Credit cards:
Cash & all major credit cards accepted
Sound level:
Moderate
Wheelchair access:
Available
Beverage service:
Full bar available
Service:
Exceptional
Recommended:
Soho wings, Mac n Cheese, TNT Popcorn Shrimps, Quinoa Salad, Veg pizza
Reservations:
04 2868520
Website:
http://www.soho.ae/
Facebook :
https://www.facebook.com/sohobarandgrill/