Frankie's Comedy Cellar – Scrumptious Fare & Guaranteed laughs
A review of Frankie's Comedy Cellar
Comedy nights are back at JBR's hottest Italian bar & grill!
Frankie's comedy cellar
– the highly popular comedy show made a comeback this august with an interesting new line-up of comedians and a whole lot of punch.
Featuring star comedian Simeon Goodson (the host) and some new folks who are all enormously funny in their own right, the show is currently running bi-weekly in Abu Dhabi and Dubai. The line-up of artists include Jay Bhambani , Maher Barwany, Omar Kazim, Rami Boraie, Rayan H Karaky and Shaddy Gaad.
I popped in one of these Saturdays to beat my pre-Sunday blues and, boy oh boy, I wasn't disappointed. I had one of my best weekends enjoying some cheeky humor in the company of fine Italian house beverage and tantalizing fare.
The Show
The comedy night kicked off with an act from Simeon Goodson who has entertained audiences as far away as New York. His engagement with the guests at his shows, are second-to-none. The intimate (read small) space meant him moving around and picking on random people with his witty remarks. No one was spared, not even the backbenchers! Even those that tried to remain aloof without playing along with his pranks were dealt with in a way that made them become part of the act and laugh at the end of it! That's what good comedy is all about.
Thanks to talents like Simeon Goodson, Frankie's Comedy Cellar has become incredibly popular and has helped turn the restaurant into a thriving hub of fine dining and comedy in Dubai. With an exciting line up of comedians every season, the 'Dine and Laugh' shows run full house both in Frankie's Dubai and Fairmont Hotel, Al Bahr, Abu Dhabi.
The Food
When you have a restaurant that's a joint venture of the greatest chefs of all time and one of the most recognized award-winning jockey you can expect the best of both worlds – great food and awesome entertainment. And that is exactly what Frankie's Italian Bar & Grill offers.
One of the coolest places in JBR to enjoy an intimate and romantic dining experience, Frankie's menu offers a delightful fusion of traditional favorites such as lasagna, pizzas and bruschetta, alongside innovative dishes of truffle rice croquettes and eggplant roulade.
What I ate
For starters, I had
Fritto misto di gamberi, calamari e zucchini
. Served with three of Frankie's signature sauces this dish was delectable. The crunchy deep-fried shrimps, calamari and zucchini went well with my drink and made me crave for more.
For main course, I went for
Risotto con robiola, porri e funghi porcini
. It was as creamy, rich and delish as one would have wanted it to be. The quantity was pretty good and really filled my stomach.
The service
The service was good. The waiters/waitresses paid attention to details and served with a smile.
The Ambience
Jazzy set up with red velvet chairs, dim lighting and nice music in the backdrop. Overall a very classic set up for both fine and casual dining
Bottomline:
Apart from the delectable fare, Frankie's offers the perfect setting to have a completely chilled out night with family or friends. Whether it is the 'Dine and Laugh' comedy nights or the live music by the singer-pianist duo - entertaining 7 days a week, Frankie's has everything to make your visit there – an absolutely delightful experience.
Appropriate for anyone with a sense of humor Frankie's Comedy Cellar is sure to make you laugh your (A**s off) or lets just say - hats off.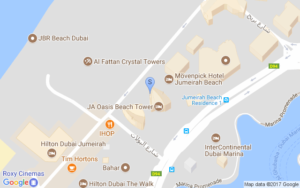 Address :
Ground Floor, Oasis Beach Tower - The Walk
Jumeirah Beach Residence
Opening Hours
Sun - Sat:
Restaurant
Lunch: 12:30pm to 3:30pm
Dinner: 5:30pm to 11:30pm
Bar: 5:30pm to 11:30pm

Phone Number