The Perfect Friday Brunch - The Bench Brunch at The Daily
The Bench Brunch at The Daily, Rove Hotel, City Centre
Friday is that day of the week when we just want to take the back seat, live life - a bit slower, chillout with loved ones and of course, enjoy a great meal. This whole Friday equation is incomplete without food.
Food is kind of the national obsession in this country, particularly in Dubai. And this obsession gets to its peek on weekends. Needless to say, every other restaurant in town is vying for this segment with happy hours and countless other weekend promotions and offers. With over 8000 restaurants in town the average Dubaian has a lot of choices on offer.
As a food blogger, I have tried out a zillion Friday Brunches at a variety of places – from 5 star hotels to street side bistros. But this weekend trip to the Rove, has made
The Daily
my new favourite and highly preferred spot for Friday brunching.
Here's why:
The Location
The last thing you want on a peaceful Friday morning is to be stuck in a traffic jam, so I really like the fact that this one is closer to where I live. The Rove City Centre Hotel is just a stone through away from Exit 2 of the DCC metro station. In fact, most of their properties are situated across well-connected locations in Dubai. So it's easier to hail a cab and get there or better still, ride the Dubai metro. The hotel is situated in a quieter area with offices, banks and hotels all around, so less noisy on weekends. They have ample parking space so no parking woes in case you drive there.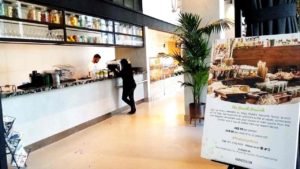 The Ambience
The milieu is chilled out, spacious and quite interesting. The mood is subtle, relaxed, tranquil – just perfect for the weekend. They have a nice lobby in the entrance of the restaurant with plush seating and interesting works of art, photographs and paintings all around. Hangout there if you will, in one of those extra comfy sofas and enjoy the free WIFI and aromatic coffee from The Daily's expert barista. The ambiance is definitely very Instagram-worthy.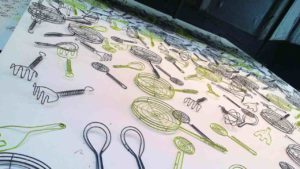 The interiors of
The Daily
are equally interesting. They have a huge artistic wall completely covered with arty metal paraphernalia from the chefs table. Spoons, egg beaters, tongs – you name it! I learnt from Tanika – the restaurant manager, that most of their restaurants are themed ones. For instance, in their Downtown property, they have a wall with ceramic plates.
The Daily
also has an outdoor dining area with nice seating and sun shades.
The Food
The Daily Bench brunch offers an unlimited buffet complete with a wide range of choices including hot and cold plates, fresh fruits, fresh juices, just-baked pastries, a selection of fresh cheese, assorted cereals, and an interesting line up dishes on the main course.
The dishes on the Bench Brunch main course include:
Buck Wheat & Spelt Crepes, Chili Tofu
for the tofu fans
, Red Shakshuka, Eggs Your Way –
where you can have it cooked to your taste with all your personal customizations
, Pitaya Bowl, Eggs on Toast, Grilled Chicken Salad, Quinoa Salad, Vegetable Lasagna, Vegetable Biryani ( Indian style), Cheeseburger, Arabic Thali
that comes with Chicken Mandi, Hummus, Moutabal, Fattoush, French fries and Arabic pickles
, and finally the Fisherman Feast.
For starters I picked a few fresh salad and a small jar of fresh orange juice.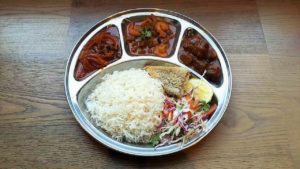 Being a sea food lover, I went for
Fisherman Treat
, for the main course. It was indeed a treat for the senses, from the depths of the great ocean. The
Fisherman Treat
came with Semolina fried Seabass, coconut shrimps curry, steamed rice, beef vindaloo, stewed beans, lemon slaw, and Kokum digestive.
Fisherman Treat
The Seabass
Certainly, it was one of the best seabass I've tasted in recent times. It was cooked to perfection in a typically Goan style, where the fish is generally dipped in roasted semolina and then fried, giving it that extra crispiness and taste. Every crunchy bite in your mouth makes you fall in love with their Seabass Fry.
The Shrimps Curry
It was a pinch spicy but in a perfect kinda way and appealed to my Indian taste buds
.
The coconut gravy sort of negated the effect of the spiciness, and gave it an overall, great taste. Their head chef is talented young man from that region of India where Fish and Rice is the staple food - GOA.
Goa
being on the coastal belt is blessed with umpteen marine life, so needless to say most Goans are experts in seafood. So, if you're dining-in at The Daily, Rove City Centre, and order seafood - you can definitely expect the chefs expertise and experience to work its magic on your plate.
Stewed Beans
The best part about this side was that the curry came with tomatoes giving it that tangy flavour which I totally love.
Beef Vindaloo
Again, a Goan style dish with large beef cubes and sweet gravy. I am not so much in favour of sweet gravy but I am sure it would appeal to many, who are not suckers of spicy food, like me! The meat was slightly hard, so I did share this opinion with the chef, who was kind enough to listen out and take note.
The Service
The staff, though few in number, were very friendly and attentive. Particularly, the restaurant manager Tanika Bhowmick –a very jovial, welcoming and helpful lady. She pays great attention to details and ensured I had an excellent time there.
Ms. Bhowmick was quite supportive, particularly when I wanted to take photographs of the kitchen area, that most other hotels don't give guests access to, and fuss about. She was also very kind enough to answer all my questions and even have a few taped for broadcast.
It showed that she really loved what she was doing and this positivity was contagious. I could see her staff too exude this same warmth and passion to the profession.
The bottom-line
At only AED 59, the Bench brunch is complete value for your money. Besides a great choice of fresh food and drinks, the restaurant also boasts of a fantastic ambience that can make your weekend every bit pleasant, rejuvenating and memorable. The restaurant is not very crowded in the mornings, so you can just relax and eat as slow as you want and relish the whole Friday brunch experience.
The service is certainly something that you will appreciate and there is absolutely no doubt that your first visit to The Daily won't be your last!
Recommendation:
I highly recommend the
Fisherman Treat
to all seafood lovers and even to those who are not, for in trying this – who knows - you may just acquire a new love for seafood - particularly Seabass.
Food: ****
Décor:
***
Service
:
****
Ambiance
:
****
Value:
*****
Also read
Brunch in the sky
_________________
Phone number
04 5619100
Average Cost
AED 210 for two people (approx.)
Cash and Cards accepted
Opening hours
Today 6:30 AM to 11:30 PM (All week)
Address
Rove City Centre, Lobby Level, 24 19B St, Port Saeed, Deira City Centre Area, Dubai
More Info
Breakfast
Full Bar Available
Buffet
Wifi
Outdoor Seating
Kid Friendly