View by Dusit – The restaurant with a million-dollar view
"Even the tallest tower in the world does not have this view" - View By Dusit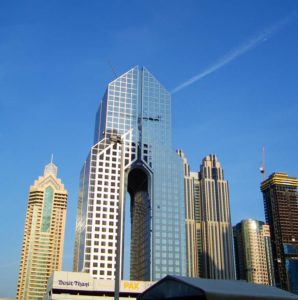 The iconic Dusit Thani hotel is a hard to miss structure in Sheikh Zayed Road. Created with the inspiration of
"wai" -
a widely used Thai gesture, it is a gorgeous work of art in concrete and glass.
Dusit Thani Hotel is also famously known for offering jaw-dropping views of Dubai's alluring skyline and therefore a favorite among tourists and locals alike.
Now, this award-winning 5 star hotel has stepped up its offering one level further by launching
View
- a gorgeous new outdoor terrace with an impressive array of food & drinks, shisha and unparalleled views of the iconic Burj Khalifa.
The Ambiance
View
is slowly becoming one of the coolest nightspots for the fashionable 30-somethings., because of the stunning nighttime views, reasonable pricing, as well as the intimate and romantic milieu.
I spoke to
Leony Calalo
- the Assistant Outlet Manager. Here's what she had to say
Mood-lit tables with candle lights and classic filament bulbs throw in just enough light to see the food, while directing the focus on the gorgeous view - than the venue. Patio warmers throw in some additional light at night, while keeping guests warm.
View
offers very relaxed seating with comfy sofas, as well as tall pub style stools for those who love to enjoy their drink in the high seats.
The wooden flooring and fencing dotted with potted plants gives the place an overall earthy tone. Beautiful hip music playing in the backdrop adds the perfect milieu to enjoy the amazing view with a glass of bubbly or shisha in the hand.
The Service
We were served by an attendant named Micheal from the African Subcontinent. His service was impressive and he also helped us in making the informed choices based on our individual taste preferences. The other waiters too were prompt and personable.
The Food
As the romantic and beautiful evening called for a drink, I went for the classic Chivas Regal while my dining partner chose an Iced Passion Fruit Mint cocktail.
I took a few sips of it and felt it was well-prepared and quite refreshing.
The Starters
We started off with our usual pub regulars
Parmesan & Truffle fries
and
Sweet Potato fries
.
The
Parmesan and truffle fries
were hot, fresh, crispy and loaded with lots and lots of cheese. It smelled wonderful and tasted as amazing as it looked. It was quite similar to the delicious fries we tried at
The Tap House
The Sweet potatoes
After
Coco on 8
, this is the second best sweet potato fries we've tasted in Dubai. Extra crisp and hot out of the stove, it made a great accompaniment to the drinks on the cold winters night.
The Appetizers
For Appetizers I went for the meaty
Jones Charcuterie board
and my dining partner went for the
Jones Classic Cheeseboard
Jones Charcuterie Board
The Charcuterie board comprised of a nice selection of cured veal chariza, smoked turkey, wagyu beaf and smoked duck slices. It was served with cornichons, caperberries, olives and fresh bread. The quality of meat was good and the Charcuterie board kept us engaged till the main course arrived. The bread was pretty fresh and I enjoyed it with a variety of meat and cheese served.
The Jones Classic Cheeseboard
A cheese lovers delight – the
Jones Classic Cheeseboard
platter came in a combination of aged, firm, soft and creamy cheeses. It was served with
Jones lavash bread
and quince. My dining partner told me she almost felt surfeit at this one that we had to wait for a while before ordering the main course.
The Main Course
For the main course we went for
Grilled Spatchcock Corn Fed Baby Chicken
and
Freekah Salad.
Grilled Spatchcock Corn Fed Baby Chicken
This dish was the highlight of my dining experience. The juicy, flavorful chicken with an irresistibly charred crisp skin tasted out of the world. The chicken was marinated overnight in buttermilk, fresh oregano and garlic and it was served on a bedding of quinoa peppered with pomegranate, blistered corn salad, avocado slices and Chimichurri sauce. The overnight marination gave the chicken its tender and luscious form and the buttermilk left a slight tangy-sour taste. This dish is my personal favorite and highly recommended.
Freekah and Roasted Vegetable Salad
My dining partner who was surfeit with the cheeseboard went for
Freekah and Roasted Vegetable salad
instead of a main course. She noted that the salad with rich and bursting with flavor. I tried a couple of spoons and loved it too. It had beetroot cuts, pumpkin, red onion, spinach, goat cheese, lemon dressing - just the perfect melange of ingredients to make it taste awesome.
Dessert
In dessert we had a Mini Indulgence platter – an assortment of 6 jones mini tarts and pastries including macron and a delicious mini cheesecake. It was a perfect finish to an amazing meal.
Shisha
View
has a very nice selection of Shisha experiences viz. Razor, Shifter, Gravity and unique flavours such as Pan Masala with Kiwi + Mint, Double Apple with Pan Rasna, Double Apple with Mint and a lot more. I tried the Pan Masala with Kiwi Mint Flavor. It was one of the best Shishas I've tried in Dubai.
Verdict
View
is the most perfect place to relax and sip down a hot cup of coffee or beverage while enjoying pristine and alluring views of the Dubai Skyline. Awesome milieu, great selection of finger food, beverages, shisha and impressive service.
If You're Going
Need to know
Cuisine:
American
,
Salad
,
Burger
Where:
133, Dusit Thani Dubai, Trade Centre Area, Dubai
Hours:
4PM to 2AM all week.
Atmosphere:
Candle lit tables, Hip Music, Gorgous terrace
Parking:
Yes, Valet parking available
Prices:
AED 320 for two people (approx.)
with alcohol
Credit cards:
Cash,
Cards
accepted
Sound level:
Moderate
Wheelchair access:
Accessible
Service:
Good
Recommended:
Grilled Spatchcock Corn Fed Baby Chicken
Additional Info:
Drinking Age Applicable; Shisha Available
Reservations:
04 3174457
Facebook:
View by Dusit
Disclaimer / Voluntary Disclosure
This review was sponsored by Dusit Thani Hotel. Though the meal was complimentary, all photos, views and opinions are my own, as always. The restaurant had no influence on the content of this article. Neither there is any form of cooperation between us, nor I am obliged to publish anything. I have not received any monetary payment in lieu of this review. All images used are courtesy of Blogliterati.com, unless stated otherwise. The images may not be reproduced without explicit permission/consent from the site owner.